Your ads will be inserted here by
Easy AdSense.
Please go to the plugin admin page to paste your ad code.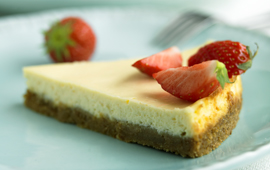 En klassisk amerikansk cheesecake med kvarg, alltid lika god och lättlagad. I detta recept serverar vi cheesecake tillsammans med färska jordgubbar.
Ingredienser
8-10 bitar
Cheesecake botten:
10 Digestivekex
75 g Svenskt Smör från Arla
Cheesecake fyllning:
500 g Arla Köket® Kesella kvarg
1/2 dl strösocker
1 tsk vaniljsocker
3 äggulor
Gör så här
Sätt ugnen på 175°.
Krossa kexen i en matberedare eller mortel. Smält smöret och blanda det med kexsmulorna.
Tryck ut massan i en form med löstagbar kant, 24 cm i diameter. Grädda i mitten av ugnen ca 7 min.
Mixa eller vispa samman, kvarg, socker, vaniljsocker och äggulor till en jämn smet. Bred ut massan i formen.
Grädda i nedre delen av ugnen 20-25 min.
Låt kallna och servera med jordgubbar.
Servering:
Servera gärna färska jordgubbar till!
Amerikansk cheesecake

,
Originally posted 2012-06-29 19:41:24. Republished by Blog Post Promoter